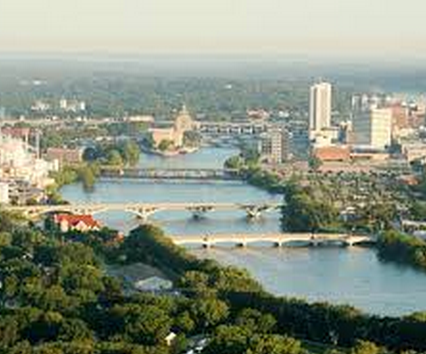 Cedar Rapids, Iowa located in Linn County is the second largest city in Iowa. The population was 126,326 in the 2010 census.

Nicknamed the City of Five Seasons, Cedar Rapids is divided into four quadrants. 1st Avenue divides the north and south sides, while the Cedar River divides the east and the west. Food for thought: Cedar Rapids has 14 zip codes!

The top three employers (according to the Cedar Rapids 2011 Comprehensive Annual Financial Report) are Rockwell Collins, Aegon and St. Lukes Hospital.

Cedar Rapids is part of Iowa's Creative Corridor

Visit:City of Cedar Rapids for city information. There is also an events website to visit: Cedar Rapids Area Convention and Visitors Bureau.

The arts and culture include museums, theater's, fest and more. To name a few and a link to their websites: Cedar Rapids Museum of Art, National Czech & Slovak Museum/Library, Paramont Theatre, Theatre Cedar Rapids, and the African American Historical Museum.

Cedar Rapids Community School District consists of 24 elementary schools, 6 middle schools and 4 high schools. Linn-Marr Community Schools serves part of the north east quadrant and College Community serves part of the south west quadrant.The city also has several private schools; Cedar Rapids Metro Catholic Education System includes 6 elementary schools, 2 middle schools and one high school. More private schools include: Cedar Valley Christian School, Trinity Lutheran School, and Isaac Newton Christian Academy.


Didn't find what you're looking for? Try our advanced search, choose the county, the city, property type, price, etc. then search. Looking in a specific area, try our map search.

For detailed instruction please view our How to Search Page and saving your searches.

We are happy to help, please contact us.

Thank you for choosing Elliott Realty Group for all your real estate needs.